SAND AND GRAVEL MINING for AGGREGATE

Sand and gravel are crucial resources to economic development activities, such as road building and concrete production. Construction of one mile of four-lane interstate highway requires 85,000 tons of aggregate; the average six room house requires 90 tons. "Aggregate" is any of several hard inert materials (as sand, gravel, or slag) used for mixing with a cementing material
to form concrete, mortar, or plaster.
Michigan is fortunate in having an abundance of sand and gravel well distributed throughout the state. Only California produces more total aggregate tonnage than Michigan.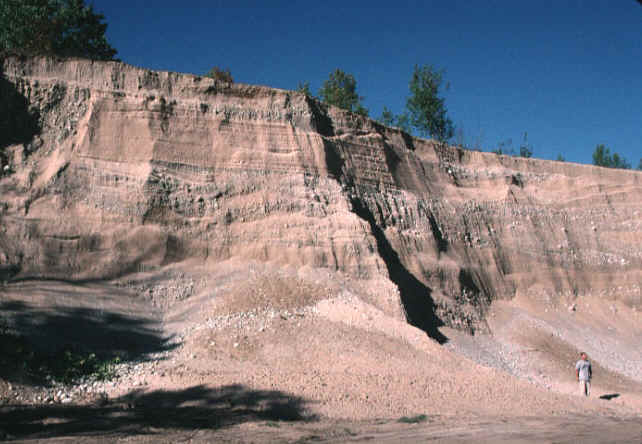 Source: Photograph by Randy Schaetzl, Professor of Geography - Michigan State University

Many states rely on crushed rock for road aggregate and for cement aggregate, while we have the luxury of simply mining existing supplies of gravel. One need only travel south or west of the glaciated area, however, to notice that in vast areas it is necessary to blast, crush, and screen hard rock to obtain the aggregate that the glaciers have provided for us. Many of the prime sources of sand and gravel have, however, been exhausted, covered by housing developments, or underlie prime farmland. Therefore, our once-abundant supply of sand and gravel is rapidly diminishing.
Much of our gravel exists as glacial deposits, left behind by glacial meltwater that carried away the clay and silt, leaving behind the heavier gravel and sand in deposits called "glacial outwash" or "ice-contact stratified drift". Most of the sand and gravel in the state is located in areas where the ice was melting rapidly and outwash was accumulating in constrained areas--interlobate areas such as the NC lower peninsula and the SW lower.
Stratified glacial deposits --- outwash plains, valley trains, kames, eskers --- play a large part in present day industry, for in them are the great gravel pits of the State. The gravel is easily washed and readily sorted into the various sized aggregates needed for construction purposes. The largest gravel operations in the world are in the interlobate area of Oakland and Livingston counties.
Sand and gravel are obtained from eskers, kames, moraines, deltaic deposits, outwash plains, and old lake beds and shorelines--all Pleistocene Age deposits that have concentrated these materials in commercial quantities. Huge amounts have been used in the construction industries of the cities and in the state's extensive highway building program. Thus, as one would expect, the leading counties in the production of sand and gravel are those with a large city in or very near the county because these bulky commodities normally cannot economically stand the costs of long-distance transportation. The map below illustrates this point by showing county population data as well as the number of sand and gravel operations per county.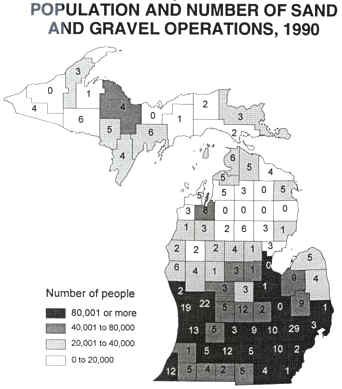 Source: Unknown

Construction-grade sand and gravel is a high volume, low value commodity, and cannot be transported long distances, economically. Most commonly, large trucks are used to transport the sand and gravel, and the rule of thumb is that it cannot economically be transported more than 30 miles. If we assume that transportation costs are 15 cents per ton per mile, a hauling distance of 20 miles will double the cost of the delivered aggregate. Thus, sand and gravel pits must be located near the consumer, and that is why sand and gravel pits are common in large, expanding urban areas. In fact, the largest, most urbanized counties typically have the most area of sand and gravel pits. If long distance transport is needed, rail cars or large Great Lakes freighters have been utilized.
The leading sand and gravel counties in 1979 were Oakland, Wayne, Macomb, and Livingston (Detroit and its suburbs); Kent, Allegan, and Ottawa (within or near Grand Rapids); Washtenaw (Ann Arbor); and Clinton (near Lansing). Each of these counties had over 1 billion tons of sand and gravel sold in 1979. As of 1994, almost every county in the state has at least some sand and gravel resources, with Oakland County the leader because if great demand and because it rests on the SE Michigan interlobate moraine. Kent and Ottawa Counties also had large aggregate extraction operations in 1994.
Usually, open pit mines are used to extract the sand and gravel. To open-pit mine for sand and gravel, four operations are necessary: (1) site clearing (removal of trees and vegetation, soil, and other overburden; soil must be stockpiled and reused later), (2) mining, (3) processing (crushing, screening, washing, blending and stockpiling of the mined material to conform to standards), and (4) reclamation of the mined area. Bulldozers, tractor scrapers, and front end loaders extract the sand and gravel from glacial deposits like eskers, kames, and outwash plains. Many mining operations also include stone crushers, so that all the rock can be utilized. The sand and gravel is sieved and sized, to the specs of the particular application.Sand and gravel mining accounts for about half of all the non-fuel mining in the state.
Compare these data to the map below, which shows areas in the state where mining is on the increase or decrease. The map below shows that mining is increasing locally, in small areas, while decreasing in others. What this map probably shows is the increase in sand and gravel mining in urbanizing and other, rapidly growing areas.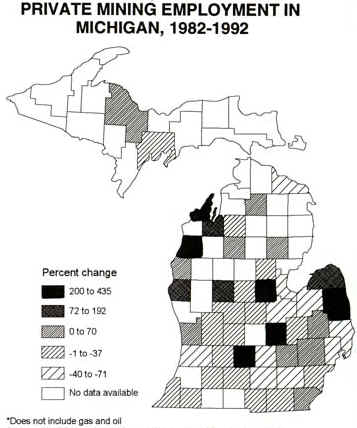 Source: Unknown

Sand and gravel contributed over $100 million to the economy of Michigan in 1979.
Sands of glacial deposits and the sands of glacial lake beds, beaches and dunes are used for foundry sands, for the manufacture of mortar, sandlime brick, molding, building and paving sands, sands for icy highways, play boxes, filters, fertilizer fillers, for highways and golf courses.
The map below is somewhat misleading, since it shows sand and gravel production, not how much sand and gravel are present. What two factors interact to lead to areas of high sand and gravel production, vs areas of high sand and gravel potential? Recall that sand and gravel are heavy, cheap commodities, and do not bear transport costs well. In fact, the rule of thumb is that you cannot transport sand and gravel farther than 30 miles...well, I guess you could, but you'd lose money, since the transport costs would chew up the slim profit margin.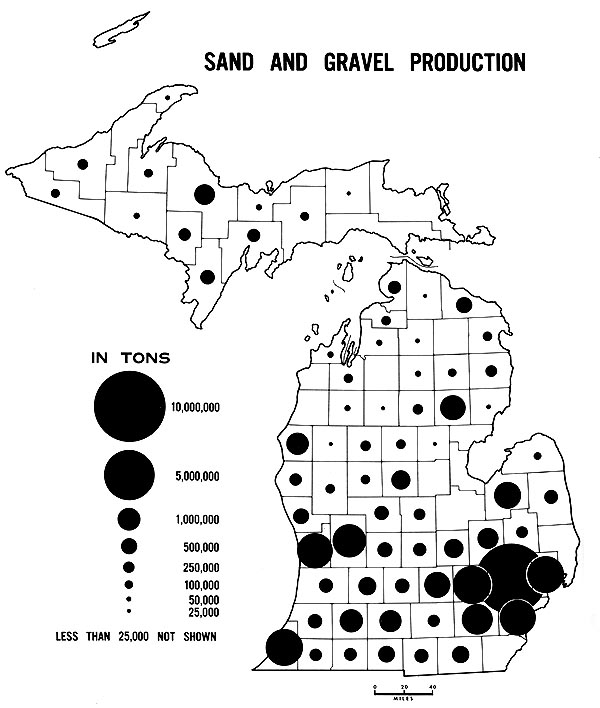 Source: Unknown

Aggregate (sand and gravel) has a myriad of uses, the most prominent of which are shown on the chart below. The main uses of sand and gravel aggregate in Michigan are (in order): road base and coverings, concrete, fill (to fill in low spots), asphalt, snow and ice control, and concrete products such as brick, block, pipe, and decorative stone.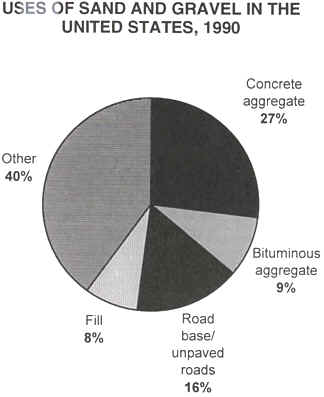 Source: Unknown

And the chart below shows how widespread sand and gravel pits are in the state!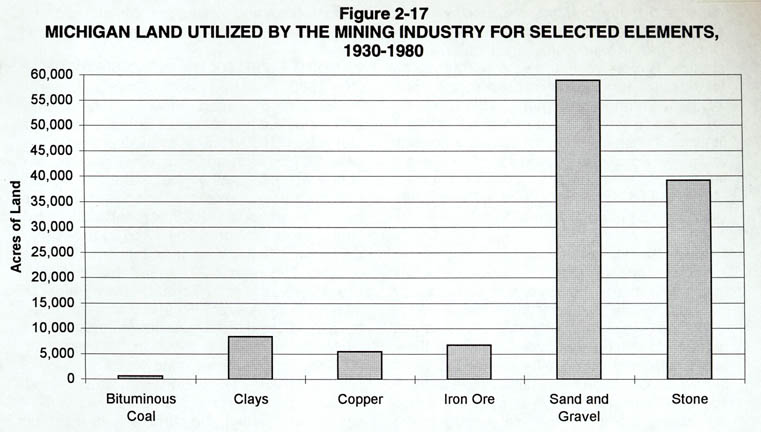 Source: Michigan Society of Planning Officials. 1995. Jobs and the Built Environment Trends. Working Paper, Michigan's Trend Future. Michigan Society of Planning Officials, Rochester, MI.

Road usage of sand in winter is becoming more popular, as concerns about salt and the environment increase. Note from the chart below that sand usage on Michigan's roads is increasing steadily.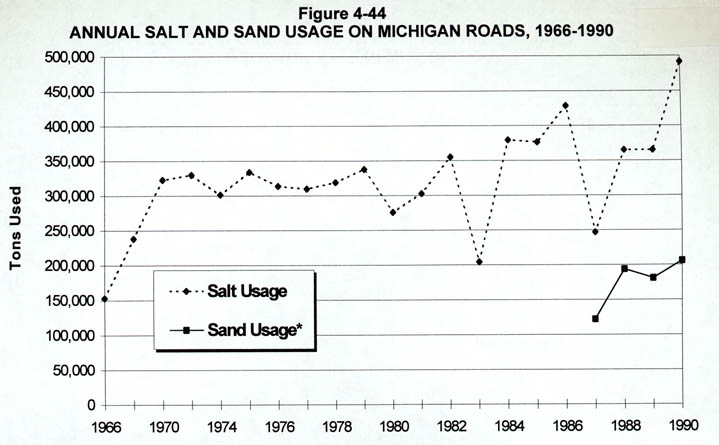 Source: Michigan Society of Planning Officials. 1995. Jobs and the Built Environment Trends. Working Paper, Michigan's Trend Future. Michigan Society of Planning Officials, Rochester, MI.

Crushed stone
Where natural gravel is not plentiful, stone must be crushed to provide aggregate. Most crushed stone is limestone and dolomite (below).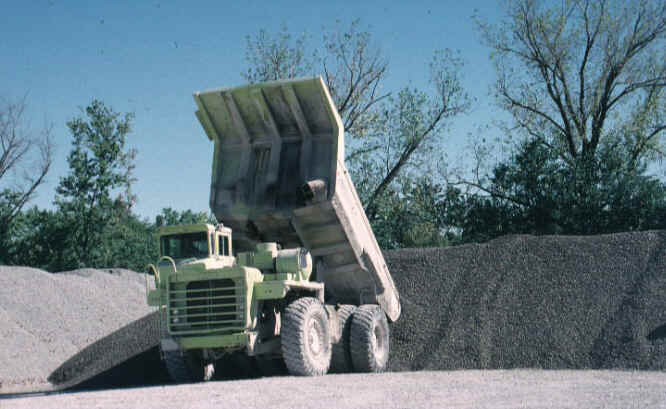 Source: Photograph by Randy Schaetzl, Professor of Geography - Michigan State University

It is used mostly for construction purposes, although much of it is also used in shoreline protection. In construction, crushed stone is used as an aggregate in concrete mixes. The stone binds the mix together when it hardens. Almost 60% of all crushed stone is used as aggregate in highway concrete and asphalt. All crushed stone in Michigan is mined in open quarries. Drilling and blasting are necessary. Crushing is done at the quarry. The crushed rock is screened. Most of the larger stone quarries are located near the shores of Lake Huron-Michigan, in the northern lower peninsula and the UP. Locations on the Great Lakes facilitate shipping of the stone, since it is a high weight low value commodity.
This material has been compiled for educational use only, and may not be reproduced without permission. One copy may be printed for personal use. Please contact Randall Schaetzl (soils@msu.edu) for more information or permissions.