MICHIGAN'S EXTREME AND SIGNIFICANT WEATHER EVENTS


The Forgotten Summer – Summer of 1816
The summer of 1816 is well known throughout North America and Europe as the summer that Mother Nature forgot. Caused by the eruption of Mount Tambora in the Dutch East Indies, which spread massive amounts of ash in the earth's upper atmosphere, this summer was known for extreme cold and crop failure. Due to the sparse population of the Midwest during this time, there are few reports from Michigan about its effects here due to the lack of weather observations. But in New England, widespread frosts were reported in every summer month, dooming crops. In addition, there were a number of heavy snowstorms in June, which killed hundreds. In fact, 19 states (including Michigan) reported accumulating snowfall during June 1816. Amazingly, ice was reported on southern Canadian lakes during the summer months. Presumably, the weather was very similar to this throughout the Midwest, including Michigan. This arctic outbreak prompted thousands to leave New York and New England and search out more fertile lands to the west, including Michigan.

Much more on the summer of 1816 can be found here: http://wchs.csc.noaa.gov/1816.htm

Snowiest Week of the Century – February 28 – March 6, 1900
Over this six day period, 30 inches of snow fell on Detroit, including 14 inches on the 28th/1st and 16.1 inches on the 4th/5th. These two storms rank as the third and fourth heaviest snowfalls in Detroit during the 20th Century. These two storms followed snowstorms of 12.6 inches and 10.0 inches earlier in February 1900, making this winter especially miserable (or delightful).

Winter of 1903-04
This winter ranks as the coldest of all time across much of lower Michigan. In Detroit, the average temperature from December through February was 18.7 degrees. Both Saginaw and Flint also saw the coldest winters on record. In terms of snowfall, this winter was no slouch either, with Detroit recording 57.0 inches (14th highest of all time) and Saginaw recording 74.9 inches (4th highest of all time)

White Hurricane – November 1913
This powerful November storm is considered to be the worst to strike the Great Lakes region in recorded history. While there were other notable winter storms comparable to this one, this is considered the worst because the lakes were still ice-free and shipping was still going strong, causing much more damage and loss of life on the lakes, especially Lake Huron. Sustained winds across eastern lower Michigan, from Detroit up through the Thumb, reached as high as 60 mph, with recorded gusts over 70 mph. While Detroit only received 4.3 inches of snow, many areas along the Lake Huron shoreline received very heavy snow, with snow drifts of several feet reported. But the most memorable thing about this storm is the extreme loss of life that occurred at sea. At least 235 sailors lost their lives on Lake Huron, due to the sinking of dozens of ships, including 8 large freighters.

Spring Snowstorm – May 9, 1923
An extremely unusual weather event occurred across lower Michigan during the afternoon of May 8, 1923. A very powerful cold front swept across the state, dropping temperatures from noon readings in the 60's to the lower 30's by six o'clock. Remarkably, a rain/snow mix was observed, with reports of up to an inch of accumulation reported. However, the following day saw a storm developing in Ohio, stuck between the cold air across Michigan and the warm air across the Ohio Valley. The result was very heavy snow across lower Michigan, much of which fell during the afternoon hours. Even the strong May sun and warm ground could not prevent some of the amazing snow reports that came in. Officially, Detroit recorded 6 inches of snow accumulation. However, around 6-9 inches were recorded just north and west of Detroit, in places like Howell, Ann Arbor, and Port Huron. But even farther north and west, the Flint, Lansing, and Saginaw areas received a foot of snow! This storm caught many by surprise, but caused little damage to property or vegetation. By the evening of May 10, 1923, the snow was just a memory, as all of it had melted. But this storm remains (and will likely remain for quite a while) as the most significant late season snowstorm that lower Michigan has ever witnessed.

Dust Bowl
The Dust Bowl dryness of the 1930's is known as one of the worst weather disasters to hit the United States. Although conditions were much worse in the plains states, Michigan was not spared by this dry spell. Three of the five driest years ever recorded in Flint, Saginaw, and Detroit were recorded in the 1930's, with 1930, 33, 34, 36, and 39 being especially dry. In fact, the driest year ever recorded in Michigan history occurred in 1936, with Croswell in Sanilac County recording just 15.64 inches. This dryness caused great distress among farmers, adding an extra strain to people already suffering through the Great Depression.

Heat Wave of 1936
The period from July 8 – July 14, 1936 is likely the most severe heat wave ever experienced in Michigan, and one of the worst ever recorded in US history. Before this outbreak of heat, the National Weather Service had recorded just 7 days that Detroit had ever reached 100 degrees. That number doubled in just one week, as all 7 days from the 8th through 14th saw 100 degree temperatures. The high temperatures recorded in Detroit were 104,102,102,101,100,102,104. The 104.4 degrees recorded was the second highest temperature ever recorded in Detroit. Perhaps the worst day of all was the 10th, which saw a high of 102 and a low of 77, giving a mean temperature of 90. The weather was even hotter in Saginaw, which saw high temperatures of 104,104,105,107,107,107,111 (the hottest ever recorded). During this outbreak, Mio recorded a temperature of 112, which still stands as the highest temperature ever recorded in Michigan. Aside from doing damage to the record books, this outbreak caused great loss of life. In Detroit alone, 364 people died of the heat, with the elderly and infants being most susceptible to the heat. 570 people died across the state, and 5000 perished nationally from this severe heat wave.

Much more on this can be found here: http://detnews.com/history/heat/heat.htm

Flint – Beecher Tornado of 1953
One of the few tornadoes ever reported in Michigan with a rating of F5 on the Fujita Scale (winds 261-318 mph), this tornado was the deadliest in Michigan history. During the afternoon of June 8, 1953, a strong warm front pushed northward through lower Michigan, causing temperatures to rise into the low to mid 80's. As a cold front pushed through the area during the evening, severe thunderstorms erupted throughout southeast lower Michigan. At approximately 8:30 pm, a tornado touched down 2 miles north of Flushing, in Genesee County. It tracked across the north side of Flint, through the community of Beecher, and dissipated when it reached 2 miles north of Lapeer. In total, this violent twister wreaked havoc along its 23 mile long path. After everything was done, 115 people had lost their lives in the storm. Throughout the state, tornadoes were reported in Monroe, Livingston, Washtenaw, Iosco, Alcona, Genesee, Huron, and Lapeer Counties. The Flint Journal described the scene, saying "The injured and dead, some bodies battered beyond recognition, were strewn amidst twisted heaps of wreckage and debris". There were reports of people, in bed, transported 100 yards away without a scratch. In addition, hundred year old elm trees were pulled out by their roots, two-by-fours were reported driven deep into concrete, chickens were defeathered, and untouched flowers with petals intact stood next to leveled houses. Perhaps the most unbelievable story from this storm was that of an unmailed letter, picked up by the tornado, and dropped off at its addressee 60 miles away. With its 115 victims, this tornado ranks as the eighth deadliest tornado in U.S. history, and still stands as the last tornado in the nation to claim 100 lives.

Palm Sunday Tornado Outbreak of 1965
A massive tornado outbreak on April 11, 1965 ranks as one of the most destructive in U.S. history, killing 256 people, injuring 500, and causing property damage of $200 million across 5 states. In Michigan, 53 people were killed by these twisters. Fourteen tornadoes struck lower Michigan, with sever tornadoes affecting Ottawa, Branch, Clinton, and Monroe Counties.



Thanksgiving weekend snowstorm of 1974
A heavy, wet snowfall pounded southern lower Michigan on Sunday December 1, 1974 and Monday December 2, 1974, the weekend of Thanksgiving. When the storm was finished, 19.3 inches fell on Detroit, making that the second heaviest snowfall of all time, the greatest of the 20th Century. Because the storm struck during the busiest weekend of the year for travelers, the impact and disruption was tremendous. This storm helped December 1974 become the second snowiest month ever recorded in Detroit, with a total of 34.9 inches.

Winter of 1976-77
The winter of 1976-77 ranks as one of the coldest ever across lower Michigan. Detroit, Flint, and Saginaw all recorded their third coldest winters ever. In fact, January 1977 ranks as the coldest month ever in Detroit, with an average temperature of 12.8 degrees, while the normal January temperature is 24.6 degrees. Remarkably, Detroit failed to reach 32 degrees for 45 consecutive days, from December 26 to February 8. Although this summer

Saginaw Valley/Thumb Floods of 1986
Perhaps the worst flood to ever affect Michigan, the Saginaw Valley/Thumb floods caused tremendous damage across central lower Michigan. Very heavy rains affected lower Michigan from September 10-12, 1986. The axis of heaviest rain was from Muskegon to Port Austin, affecting Saginaw, Bay City, and Midland. There were widespread reports of 6-14 inches of rain throughout this region. The Tittabawassee River at Midland, Pine River at Alma, and Cass River at Vassar and Frankenmuth all experienced record crests. Total damage from the flood was estimated at 400 – 500 million dollars, with most of the damage to crops during the peak of the harvest season.

Summer of 1988
The summer of 1988 is well-known, both for the tremendous heat and the dryness experienced across the Midwest. From May 1 – June 30, Flint recorded just 0.97 inches of rain. Meanwhile, Saginaw and Detroit both recorded their driest June of the century. In terms of the temperature, Detroit observed 39 days with the temperature reaching 90 degrees. Meanwhile, Saginaw saw 38 and Flint saw 36 days with the mercury topping 90 degrees. Meanwhile, Detroit observed five days with 100 degree heat, while Flint saw four 100 degree days.

Cold Outbreak of January 1994
Here is the official National Weather Service record of this nearly unprecedented cold outbreak in January 1994:

An arctic air mass of historic proportions settled over the state of Michigan from the 13th to 20th of January. Low temperatures on the morning of the 19th reached near all-time record low levels nearly statewide as readings of 20 to 40 below zero were quite common. Numerous daytime, and monthly record lows, were broken as well as numerous daytime record low maximum temperatures. The all-time record low for the state of Michigan was also challenged on January 19th with Amasa, Michigan coming in with a remarkably low temperature of -53 F surpassing the old record of -51 F. Unfortunately, this reading can not become an official state record low since the thermometer site was too close to the observer's house! At Detroit, this is the second longest stretch of below zero temperatures in its recorded weather history. The temperature was below zero for 57 consecutive hours, from 0100 EST on the 18th through 1000 EST on the 20th! Detroit set many other records, not the least of which was the lowest high temperature ever recorded at Detroit with a high on the 19th of 4 below zero. The previous record was 3 below zero on the 9th of February in 1899! The low temperature of 20 below for the same day was the third coldest temperature ever recorded at Detroit. So, the combination of the high and low temperatures give a mean temperature of 12 below zero, that made the 19th of January, 1994 the coldest day in Detroit weather history! If you think that is cold, consider that Marquette set a record for the longest period of consecutive hours below zero for their entire period of record. At Marquette, the temperature fell below zero at 1400 EST on Thursday, January 13th, then did not rise above zero until 1100 EST on Thursday, January 20th. That is 167 consecutive hours or about seven days continuously below zero! The lowest temperature during that time at Marquette was 27 below zero on the 19th. Sault Ste Marie fell to 29 below on the 15th, that was the coldest official temperature at any major city in the state during this cold spell. Flint tied the record cold average temperature of 4 below on the 14th. On the 16th, the average for the day of 4 below zero set another record cold average temperature. On the 18th, the high of 4 below and the average of 11 below were records for Flint. On the 19th, Flint's high of 3 below, the low of 21 below and the average of 12 below were all records for the day. Lansing was continuously below zero for 63 consecutive hours from the 17th at 1900 EST until the 20th at 1000 EST. At Lansing record low maximums were set on the 18th at 1 below and the 19th at 2 below zero. Grand Rapids' high of 3 below zero on the 19th was a record for that date and tied the record lowest high for the month of January. At Alpena, the low of 28 below zero on the 19th was the coldest for that date, and tied the record low for the month of January. The combination of strong winds at times with the snow and record cold temperatures combined to cause numerous problems across the state. Hundreds of schools were closed for several days in a row in many areas of the state. This was because the very low wind chills made waiting for the school bus too dangerous in most areas of the state. On Wednesday the 19th alone, over 300 schools across the state were closed. Michigan State University closed on the 19th. This was only the fourth time in Michigan State University's history it closed due to weather. Detroit Edison, after just having set a record of daily power usage on the 6th of January, set another record on the 18th, with 7,237,000 kilowatts. The cold weather caused power lines to snap resulting in brief outages. This made the problem of frozen water pipes in many areas even worse. Many areas, especially in the Upper Peninsula, had whole towns with frozen water pipes for over a week. In many cases busting water pipes caused damage in many homes and businesses across the state. Damage just from the frozen water pipes in the Upper Peninsula alone is estimated at over $2 million ! Added to that is the cost of repairing downed power lines, lost school and work days, replacing damaged engine parts due to the extreme cold. Total damage costs easily exceed $5 million for the entire state! Many hospitals reported numerous cases of frozen lungs and frost bite. All in all, the arctic outbreak of January 1994 will not be soon forgotten.

Ice Storm of 1997
Here is the official National Weather Service description of the Ice Storm of 1997, which affected Southeast Lower Michigan:

Low pressure tracked from the central Plains northeast across southeast lower Michigan late on the 13th through the 14th. The storm brought widespread precipitation to southeast Michigan from late on the 13th through midday on the 14th. North of Detroit, nearly all of the precipitation fell in the form of freezing rain, with small amounts of snow and sleet noted in a few spots. From Detroit and Ann Arbor south to the state-line, the freezing rain changed to rain, but not before heavy ice accumulations occurred. Total precipitation amounts ranged from 1.5 to nearly 2.5 inches from Detroit and Ann Arbor south to the Ohio state-line. From the northern suburbs of Detroit north to Flint and Port Huron, amounts ranged from 0.8 to 1.5 inches. North of that area, amounts ranged from 0.40 to 0.80 inches. In the Detroit Metropolitan area, the ice storm resulted in power outages to over 425,000 homes and businesses; the 3rd largest outage in history, and the worst ever for an ice storm. Several thousand residents were without power for as long as 4 days. In addition to powerlines, falling trees damaged dozens of cars and houses throughout the area. Most were closed, and there were numerous auto accidents.

Tornado Outbreak of 1997
During the afternoon of July 7, 1997 powerful thunderstorms erupted across the lower peninsula of Michigan. These storms developed across western lower Michigan during the early afternoon hours in a very warm, humid airmass ahead of a powerful cold front. As a result of these conditions and an unusually strong storm in the mid levels of the atmosphere, conditions were ripe for powerful supercell thunderstorms. The first report of severe weather occurred with large hail in the early morning hours in Berrien County and the last report was of flash flooding in Macomb County. In between, 16 tornadoes were reported across the state, the most for any one date in Michigan history. Total damage to property and crops was estimated at $144 million dollars, while there were 7 deaths and 106 injuries reported. The area that received the most damage was Metro Detroit, in Grosse Pointe Farms, Detroit, Highland Park, Romeo, Sterling Heights, Livonia, and Holly. The strongest of the 16 tornadoes was an F3 tornado reported in Clio. The highest reported non-tornado sustained wind was 80 knots in Grosse Pointe Farms, where 5 people drowned after being blown into Lake St. Clair.

Much more on this can be found here: project..crh.noaa.gov/dtx/july2.htm

El Nino Winter of 1997-98
The extremely warm winter of 1997-98 is remarkable for a number of reasons. Being the second warmest winter in both Flint and Detroit, a number of records were set. Snowfall in Detroit from December – February in Detroit was a meager 14.4 inches, which is 17.5 inches below normal. In fact, Detroit recorded just a trace of snow in February, with Flint recording just 0.4 inches of snow. In terms of temperatures, the numbers are even more remarkable. Detroit was 8.4 degrees above normal and Flint was 7.4 degrees above normal. During the month of February, every single day in Flint and Detroit was above normal, an incredible statistic. Another thing of note is that, during the entire winter, the coldest temperature in Detroit observed was 11 degrees.

Snow and cold of January 1999
A major winter snowstorm dumped 12-18 inches across lower Michigan January 2-3, 1999, making it one of the worst snowstorms ever to hit the state. Drifts were in excess of three feet in many places, making travel very difficult. Occurring during a busy travel weekend, Detroit Metro Airport ground to a halt for nearly 3 days. Widespread criticism of the airport and Northwest Airlines made national headlines for their actions during the blizzard, with reports of passengers being stranded on runways for 6 hours. Aside from this storm, a number of other storms dumped several more inches, with Detroit Metro officially receiving 23 inches by the 15th, although some of the northern and western suburbs of Detroit received about 30 inches during this two week period. The temperatures during this period were very cold, with Detroit's average temperature being 11.4 degrees, which is 12 degrees below normal.


Temperature Extremes


The state of Michigan is susceptible to a wide variability in temperatures. The hottest temperature ever recorded in the state was 112F, which occurred on July 13, 1936 in Mio. Interestingly, 14 other states also recorded their all-time hottest temperature during that summer. In contrast, the temperature in Michigan has officially gotten as low as –51F, which occurred in 1934 in Vanderbilt. Just thirteen other states have all-time low temperatures lower than –51F. The following graphic shows the all-time highest temperatures recorded in Michigan in each month, and where they were observed.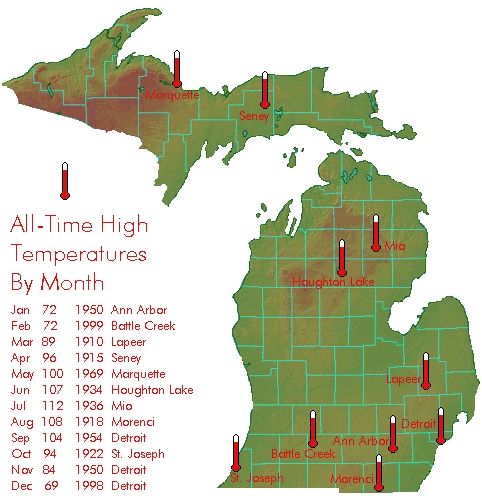 The following graphic shows the all-time lowest temperatures recorded in Michigan in each month, and where they were observed.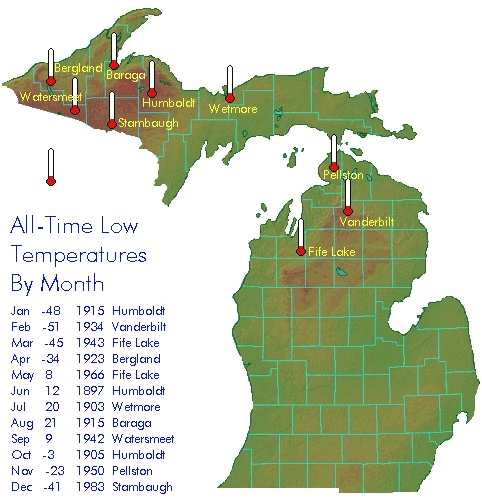 The following charts display the extreme temperatures possible at a number of cities across Michigan during each month of the year, compared to the average highs and lows for that month.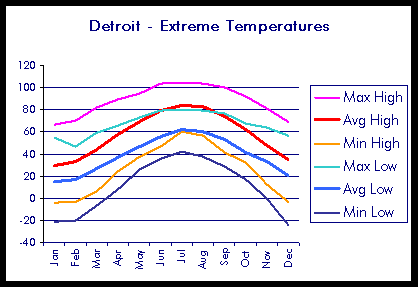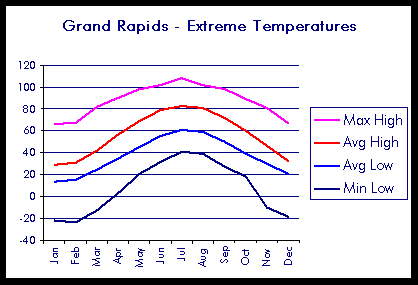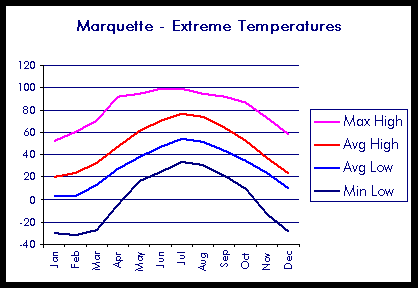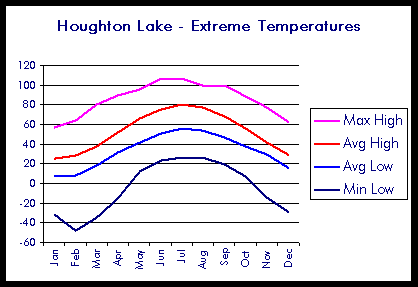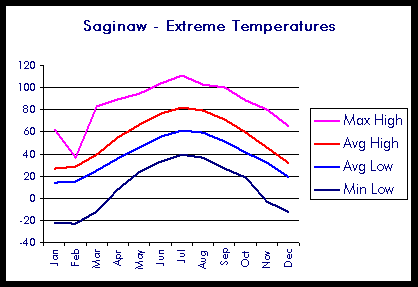 Precipitation Extremes
Due to Michigan's location in the Midwest and being surrounded by water, Michigan is not easily susceptible to extreme dryness or extreme wetness. In fact, the annual maximum rainfall ever recorded in Michigan occurred in Adrian, where 64.01 inches were recorded in 1881. Meanwhile, the annual minimum for precipitation in the state is 15.64 inches, which occurred at Croswell in 1936. The following table and charts show the annual mean, annual maximum, annual minimum, 24 hour maximum, maximum snowfall, and mean snowfall for several selected cities in Michigan. All numbers are in inches.
| | | | | | | |
| --- | --- | --- | --- | --- | --- | --- |
| City | Annual Max | Mean | Annual Low | 24 Hr Max | Max Snow | Mean Snow |
| Detroit | 42.64 | 32.62 | 21.01 | 4.34 | 75.3 | 42 |
| Saginaw | 43.36 | 30.41 | 17.56 | 5.51 | 78.5 | 44.9 |
| Lansing | 39.55 | 30.62 | 21.23 | 4.95 | 80.1 | 53.3 |
| Benton Harbor | 50.41 | 37.33 | 20.29 | 6.6 | 142 | 78.1 |
| Muskegon | 46.79 | 32.56 | 16.55 | 6.6 | 182.2 | 114 |
| Grand Rapids | 47.53 | 36.04 | 27.55 | 3.61 | 100.9 | 72.1 |
| Traverse City | 63.15 | 29.77 | 16.44 | 4.3 | 189.8 | 88.9 |
| Mackinac Island | 39.16 | 28.83 | 17.08 | 5.14 | 148.7 | 87.4 |
| Saulte Ste. Marie | 45.84 | 34.23 | 24.49 | 5.92 | 208.8 | 128.3 |
| Marquette | 41.54 | 30.67 | 21.91 | 4.06 | 191.2 | 117.2 |
| Ironwood | 52.65 | 34.29 | 17.74 | 6.72 | 292.5 | 173.1 |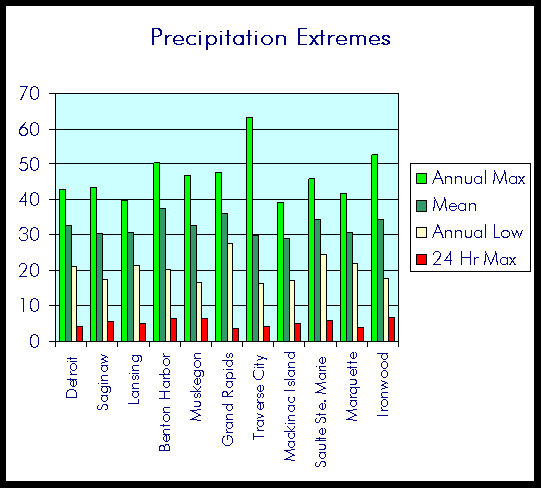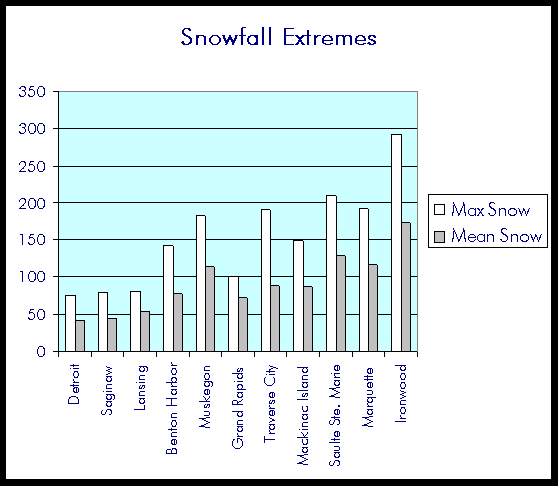 Sources
National Weather Service – Detroit/Pontiac, Michigan project..crh.noaa.gov/dtx/start.htm
National Climactic Data Center project..ncdc.noaa.gov/
Midwestern Climate Center http://mcc.sws.uiuc.edu/
This page was created by Andrew Huizinga, a GEO 333 student.
This material has been compiled for educational use only, and may not be reproduced without permission. One copy may be printed for personal use. Please contact Randall Schaetzl (soils@msu.edu) for more information or permissions.