LAKE ONTARIO

Lake Ontario is similar to Lake Erie in length and breadth (193 miles by 53 miles). Yet with its greater average depth (approximately 283 feet), Lake Ontario holds almost four times the volume (393 cubic miles) and has a retention time of about 6 years. The drainage basin covers parts of Ontario and New York, and a small portion of Pennsylvania. Major urban industrial centers, such as Hamilton and Toronto, are located on its shore. The U.S. shore is less urbanized and is not intensively farmed.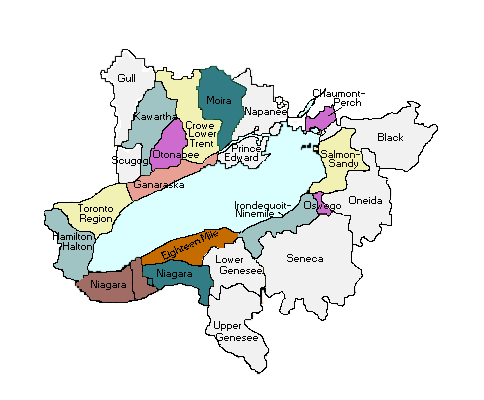 FACTS
Length - 193 miles / 311 km.
Breadth - 53 miles / 85 km.
Ave. Depth - 283 ft. / 86 m
Max. Depth - 802 ft. / 244 m.
Volume - 393 cubic miles / 1,640 cubic km.
Water Surface Area - 7,340 sq. miles / 18,960 sq. km.
Drainage Basin Area - 24,720 sq. miles / 64,030 sq. km.
Shoreline Length (including islands) - 712 miles / 1,146 km.
Elevation - 243 ft. / 74 m.
Outlet - St. Lawrence River to the Atlantic Ocean
Retention/Replacement Time - 6 years

Name - Champlain first called it Lake St. Louis in 1632. On a Sanson map in 1656, it remained Lac de St. Louis. In 1660, Creuxius gave it the name Lacus Ontarius. Ontara in Iroquois means "lake," and Ontario, "beautiful lake."

Lake Ontario, the 14th largest lake in the world, is the smallest of the Great Lakes in surface area.

It ranks fourth among the Great Lakes in maximum depth, but its average depth is second only to Lake Superior.

Lake Ontario lies 325 ft (99 m) below Lake Erie, at the base of Niagara Falls.

The falls were always an obstacle to navigation into the upper lakes until the Trent-Severn Waterway, along with the Welland and Erie Canals were built to allow ships to pass around this bottleneck. The oldest lighthouse on the U.S. side of the Great Lakes was set up at Fort Niagara in 1818 to aid navigation.

The basin is largely rural, with many scenic resort areas.

A few large urban areas, including Ontario's capital city (Toronto), are located on the Canadian shoreline.

In 1972-73, 1,000 scientists, engineers and technicians undertook the most extensive survey ever made of a Great Lake.
This material has been compiled for educational use only, and may not be reproduced without permission. One copy may be printed for personal use. Please contact Randall Schaetzl (soils@msu.edu) for more information or permissions.