THE OTTAWA NATION

The map below shows where the Ottawa peoples were located as of 1760. Few Ottawas actually lived in the Great Lakes region--as few as 4000 by some estimates. The Ottawa were primaily traders and hunters, although they did practice some low-intensity farming.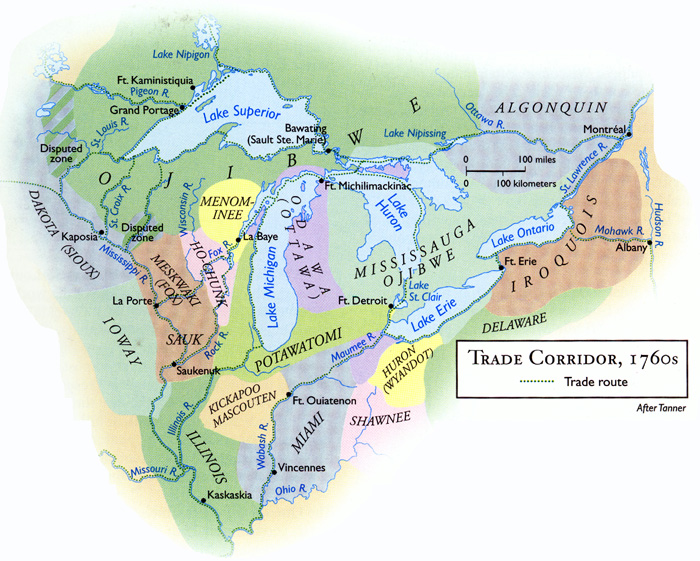 Click here for full size image (220 kb)
Source: Wisconsin Atlas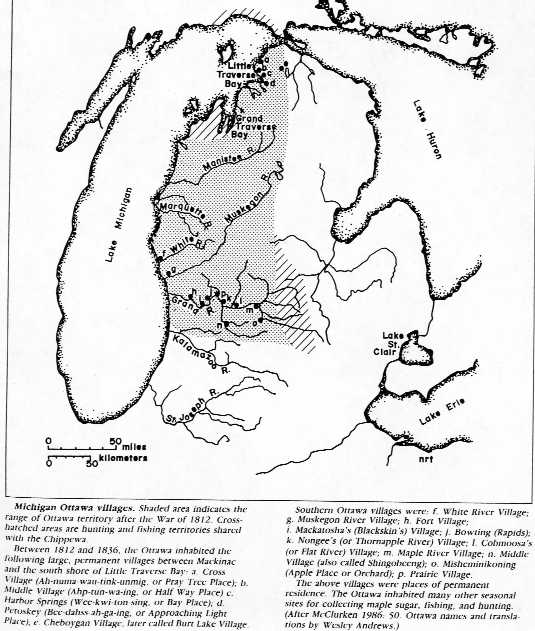 Click here for full size image (431 kb)
Source: Unknown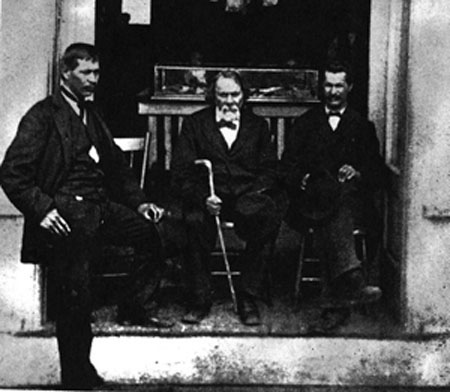 Source: Unknown
The photo above shows Chief Ignatius Petoskey (center), after whom the city was named, with his two sons, Louis (left) and Enos, in 1878. Petosky was a member of the Ottawa tribe.
Pontiac was the most famous chief of the Ottawa Indians. In 1763 he led a number of Indian tribes in an attempt to drive the British from their lands. They took nine out of eleven British forts in the Great Lakes region. The Indians could not defeat the strong British forts at Detroit (Fort Detroit) and Pittsburgh (Fort Pitt). Pontiac's War came to an end after Colonel Henry Bouquet led a large army from Fort Pitt into Ohio forcing the Indians to make peace. Sadly, peace did not last long. During the American Revolution, the Ottawas fought for the British against the Americans. But when the British surrendered, they turned their backs on their Indian allies. The Ottawas continued to fight the Americans.

Some of the text on this page is from: project..ohiokids.org/ohc/history
This material has been compiled for educational use only, and may not be reproduced without permission. One copy may be printed for personal use. Please contact Randall Schaetzl (soils@msu.edu) for more information or permissions.