THE LAKE ST. CLAIR DELTA

Lake St Clair is an expansive shallow basin, with low, marshy shores and a flatly sloping bottom. The lake has a greatest natural depth of 21 feet. The St Clair River flows south and enters the northern part of the lake through several channels of a wide delta area. The outflow of the lake is at the SW end through the Detroit River. The chief importance of the lake is the dredged deep-draft channel that leads across it to connect Detroit River and St. Clair River. No large commercial facilities or harbors are on the lake.
The delta of the St. Clair River, where it empties into Lake St. Clair, is the largest freshwater delta in the world! For the most part, the delta is public land, being too marshy to use as framland or for building purposes.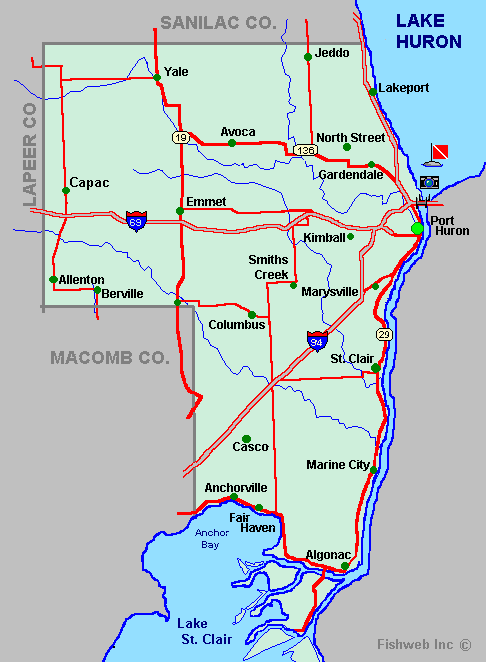 On the map below, the star is located on the western limb of the delta.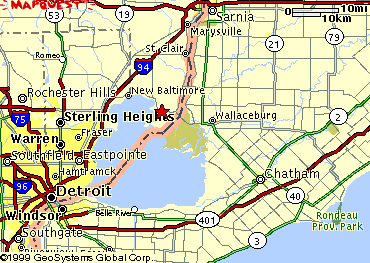 The map below shows the bottom topography of Lake St. Clair.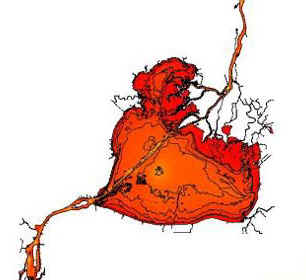 Like many area in Michigan, development pressures are great on the St. Clair delta. However, the wetness of the site is a problem. The text below is taken from a Free Press article on a possible subdivision planned for a part of the delta:

DESPITE DELAYS, DEVELOPERS PLAN HUMBUG MARSH WORK
Firm to break ground on project this spring
Nearly a year ago (2000), the developers of Humbug marsh announced that they would break ground soon on the controversial housing project and nine-hole golf course along the Detroit River. But since then, the 409 wooded acres has been still. No rumbling bulldozers. No buzzing chain saws. No builders pounding nails. The lack of activity has given hope to those who say that the riverfront land with wetlands, nesting for birds and vital fish spawning grounds is environmentally important and should be preserved. "No news is good news," said Kathy LaPointe, a Gibraltar councilwoman who opposes the development. "We're all enjoying the peace and quiet."
This material has been compiled for educational use only, and may not be reproduced without permission. One copy may be printed for personal use. Please contact Randall Schaetzl (soils@msu.edu) for more information or permissions.